Why buy palladium?

Goudpensioen makes it possible to buy palladium in physical form. A tangible investment in palladium is an ideal way to diversify your investment portfolio. As is the case with gold and silver, palladium can be purchased as bar or as a coin in various weights. Palladium products such as these are minted with a 99.95% purity. Therefore, they are suitable for worldwide precious metal trade.
1 Oz palladium bar (LPPM)

5 - 10 business days delivery

50 gram palladium bar (LPPM)

5 - 10 business days delivery

100 gram palladium bar (LPPM)

5 - 10 business days delivery
What is palladium?
Palladium is a white transition metal. It was first discovered in 1803 by William Hyde Wollaston. This happened unexpectedly while he was examining crude platinum ore from South America. Palladium in its purest form is used in jewellery production. The precious metal is mainly mined from nickel ores and copper. Furthermore, it can also be found deep in the ground, especially in where platinum and gold are also found. Today, most of the world's palladium supply is mined in Russia, although stocks in Russia are decreasing. Palladium is also found in countries such as Brazil, Australia, the United States and Canada.
Palladium's many uses
Chemically, palladium is similar to platinum. It is a soft metal and does not react to oxygen from the air. It belongs to the platinum group metals and also has the lowest melting point within this group. When the metal heats up, it becomes pliable, while at a low temperature it will harden. It is widely used in jewelry making. Furthermore, this precious metal is also widely used in industry and dentistry as well as in the production of watches.


The properties of palladium
A characteristic of palladium is that it is a silvery white metal that has the lowest melting point of all precious metals. Due to this unique property, the industrial demand for palladium has grown worldwide, mainly stimulated by the increase in the production of catalytic converters for the automotive industry. As an indication, about 85% of all palladium ends up in car exhaust catalytic converters. Furthermore, in times of crisis, many people look to convert their assets into valuable precious metals. Buying palladium means choosing to invest in a precious metal with a high value. Purchasing palladium in the form of bars and coins makes it possible to own a physical piece of palladium.


The international trade in palladium
Palladium is a precious metal and therefore widely traded internationally. The price of this precious metal is traditionally expressed per troy ounce, which is equal to just over 31.1 grams. In recent years, palladium has even surpassed gold in terms of trading value. Whereas silver often reacts to the gold price, with palladium this is much less the case. Investing in palladium has therefore become an interesting option for many investors. It is not unthinkable that its value will increase even further in the long term, making it possible to achieve considerable returns.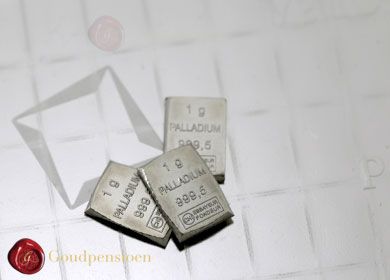 How rare and precious is palladium?
Investing in palladium has grown in popularity in recent years. Currently, palladium is in high demand, especially from the automotive industry as it ensures that cars are less polluting. Since environmental requirements are becoming increasingly strict, trading in palladium has become interesting and can yield considerable returns. The rise in the price of palladium depends on the increasing demand for this raw material and the limited supply. This makes it an interesting alternative to gold or silver, for example.


Buy palladium coins and bars
As is the case with other precious metals, the supply and demand determines the value of palladium. Are you looking to buy physical palladium? Then you can decide if you want to buy palladium bars or if you want to buy a palladium coin. View all palladium products on our website and place your order immediately. Prices are linked to current precious metal rates.