Goudbaren kopen via een bank
Overweegt u goud kopen en wilt u goudbaren kopen via een bank? In dit artikel leest u hoe fysiek goud kopen tegenwoordig geregeld is. Belangrijk om te weten is dat u bij de meeste banken geen goud kunt kopen. Weinig banken bieden nog goudbaren aan waarin u kunt investeren. Maar dat wil natuurlijk niet zeggen dat goud kopen in fysieke vorm een onmogelijke taak hoeft te zijn. Dankzij professionele goudhandelaren als Goudpensioen, kunt u nu nog makkelijker en discreter fysiek goud kopen.
Goudbaren kopen via de bank?
Vroeger kocht men goudbaren bij de bank. Tegenwoordig gaat dat anders omdat er bijna geen banken meer over die zelf goudbaren verkopen. Dit heeft vooral te maken met het feit dat consumentenbanken, als bijvoorbeeld Knab bank, in andere, ontastbare beleggingsvormen handelen. Wie zijn of haar geld wil omzetten in goud kan daarom nu terecht bij een bedrijf als Goudpensioen, dat zich specialiseert in de verkoop van beleggingskwaliteit goud, onder andere in de vorm van goudbaren.
Betrouwbare goudbaren kopen
Bent u op zoek naar goudbaren van de bank? Dan wordt dat een lastige zoektocht. U kunt nu kiezen voor de meest gangbare optie als het gaat om fysiek goud kopen door goudbaren te kiezen van wereldberoemde goudsmelters, zoals Umicore, Heraeus en Perth Mint. Deze producenten maken baren van zuiver goud die geaccrediteerd zijn door de London Bullion Market Association. Dit zijn baren die u snel en secuur kopen bij een betrouwbare goudhandelaar. Daarom is fysiek goud kopen bij Goudpensioen net zo veilig als vroeger bij de bank!
Een alternatief voor goudbaren kopen via een bank
Goud kopen via een bank gaat niet, ontdek daarom nu de voordelen van goud kopen bij Goudpensioen. Wij handelen al ruim een decennium in beleggingskwaliteit edelmetaal die u veilig en discreet online of in de winkel kunt kopen. Uiteraard, u koopt bij ons uitsluitend baren en munten van erkende smelters en munthuizen. Bovendien kunt u rekenen op 100% terugkoopgarantie tegen gunstige koersen. Bekijk alle mogelijkheden omtrent fysiek goud kopen direct op onze website. U heeft dan hierbij de keuze uit goudbaren of gouden munten kopen.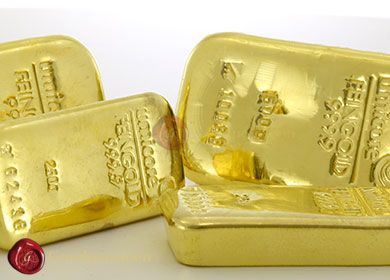 Wat voor goud kunt u kopen?
Bij Goudpensioen bent u niet beperkt tot slechts enkele goudbaren van Umicore, Heraeus of Perth Mint. U kunt bij ons terecht voor o.a.
Beleggingskwaliteit munten
Verzamelbare gouden en zilveren muntenseries
Platina en palladium zowel in baren als munten