Overweegt u om goud te kopen en wilt u dit doen bij een bank, bijvoorbeeld een grote internationale bank als Deutsche Bank? In dit artikel leest u hoe dit tegenwoordig geregeld is. Belangrijk om te weten: voor zover bekend is het bij Deutsche Bank zelf is niet meer mogelijk om goud te kopen. Sterker nog, goud kopen bij een bank kunt u tegenwoordig bijna nergens meer. Toch is fysiek goud kopen geen ingewikkelde klus, dankzij de opkomst van professionele goudhandelaren zoals Goudpensioen, die u een betrouwbare alternatief bieden.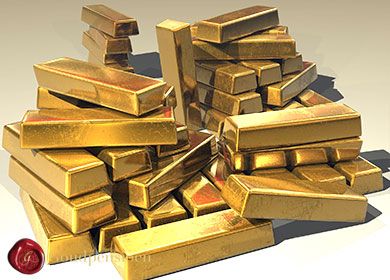 Goudbaren van bijvoorbeeld Deutsche Bank kopen
Wat vroeger vanzelfsprekend leek, is nu verleden tijd. Sinds 2013 is het niet meer mogelijk om bij Deutsche Bank fysiek goud aan te kopen. Net als vele andere banken, draait het nu om ontastbare beleggingsvormen. Wie nu een deel van zijn of haar vermogen in goud wenst te investeren, bezoekt in de meeste gevallen niet meer de bank, maar een bedrijf als Goudpensioen, dat zich volledig richt op de verkoop van beleggingskwaliteit goud.
Hoe koopt men goud bij een bank?
Zoekt u nog steeds naar goudbaren via een bank? Deze worden door bijna alle grote banken niet meer uitgegeven. Gelukkig betekent dit niet dat u geen ander opties heeft. Zo kunt u tegenwoordig voor een goudbaar kiezen van een wereldberoemde smelter als Umicore, Heraeus en Perth Mint, die allemaal geaccrediteerd zijn door de London Bullion Market Association. Dat maakt goud kopen bij een betrouwbare goudhandelaar als Goudpensioen net zo veilig als vroeger bij Deutsche Bank!
Alternatief voor goud kopen bij een bank
U kunt dus niet meer bij een bank als Deutsche Bank terecht voor uw aankoop van goudbaren. Als alternatief kunt u kiezen om fysiek goud te kopen bij Goudpensioen. Al ruim een decennium handelt ons bedrijf in beleggingskwaliteit edelmetaal die u snel, veilig en discreet online of in de winkel kunt kopen. Uiteraard koopt u bij ons uitsluitend baren en munten van erkende smelters en munthuizen. Daarnaast kunt u rekenen op 100% terugkoopgarantie tegen gunstige koersen. Ontdek alle mogelijkheden omtrent goud kopen direct op onze website.
Wat voor goud kunt u kopen?
Bij Goudpensioen bent u niet beperkt tot slechts enkele goudbaren. U kunt bij ons terecht voor o.a.
Beleggingskwaliteit munten en baren
Verzamelbare gouden en zilveren muntenseries
Platina en palladium