Goud kopen bij de nationale bank
Wilt u goud kopen bij de nationale bank? In dit artikel leest u hoe fysiek goud kopen tegenwoordig geregeld is en waarom dat bij de bank niet zomaar kan. Wie nu op zoek is naar goudbaren zoals ooit door de bank verkocht, kan bij een goudhandelaar als Goudpensioen terecht. Zo koopt u snel en discreet beleggingskwaliteit goud online of in de winkel.
Goud kopen bij de nationale bank
In Nederland is De Nederlandsche Bank (DNB) de centrale bank, ofwel de nationale bank. Deze bank heeft een aantal belangrijke taken met betrekking tot het waarborgen van de financiële stabiliteit van ons land. Zo beheert de DNB over het nationale goudreserve van circa 14.000 goudstaven, ieder met een gewicht van 12,5 kilo. Echter, is dit goud niet te koop. Het is ook niet bekend of de nationale bank ooit goud zal gaan aanbieden in vorm van baren aan particuliere kopers.
Alternatief voor goudbaren kopen bij de nationale bank
Wanneer u nu goudbaren wil kopen, hoeft u niet langs te gaan bij de nationale bank. Deze kunt u aankopen bij een specialist in edelmetalen, zoals Goudpensioen. Daar kunt u kiezen voor baren van wereldberoemde goudproducenten als Umicore, Heraeus en Perth Mint, gemaakt van zuiver goud met een accreditatie van de London Bullion Market Association. Dat maakt goud kopen bij Goudpensioen net zo veilig als vroeger bij de bank!
Nu goud kopen
Uw goud kopen bij de nationale bank is ten tijde van dit schrijven geen optie. Ontdek daarom nu de voordelen van goud kopen bij Goudpensioen. Ons bedrijf handelt al ruim een decennium in beleggingskwaliteit goud die u veilig online of in de winkel kunt kopen. Uiteraard koopt u bij ons uitsluitend baren en munten van erkende smelters en munthuizen. Bovendien kunt u rekenen op 100% terugkoopgarantie tegen gunstige koersen. Bekijk alle mogelijkheden omtrent fysiek goud kopen direct op onze website.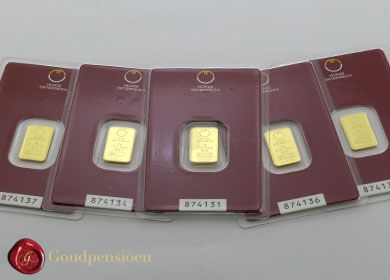 Wat voor goud kunt u kopen?
Bij Goudpensioen bent u niet beperkt tot slechts enkele goudbaren. U kunt bij ons terecht voor o.a.
Beleggingskwaliteit munten en baren
Verzamelbare gouden en zilveren muntenseries
Platina en palladium
Welke goudproducten
Weet u niet of u nu gouden munten of baren moet kopen lees dan hier voor meer informatie:
Gouden munten of baren kopen?