Gold coins or gold bars – what to buy?
Physical gold is available to buy in gold coins and gold bars. If you are a first-time buyer, then you are likely wondering: is it better to buy gold coins or gold bars? In order to make a well-informed decision, read on to discover more about both options. Buying physical gold: consider the F-S-C.
F-S-C
When buying physical gold, it's wise to pay attention to the F-S-C: Flexibility, Saleability and possible Collectable Value of the products you buy.


Flexibility
Means that the weight of your purchased gold is spread in a practical way, that is to say: when purchasing 250 grams of gold, you gain more flexibility when this weight is divided over a number of gold coins or spread between two 100 gram gold bars and one 50 gram gold bar, for example. If you were to put all your weight into single gold bar, you would be required to sell off the total weight when making a trade in the future.
Saleability
Is determined by the origin of the product: for gold bars, this means making sure they are produced by a London Bullion Market Association (LBMA) approved smelter and for gold coins it is important that they come from a reputable mint. This ensures that you are buying a product that remains easy to trade worldwide and will not require future inspection costs.
Collectable Value
May be relevant when considering an investment in gold coins. Depending on product choice, for example limited editions, it's worth noting that potential future collectable value may also lead to an increased profit at a later date. However, this is always dependent on the market and the ability to find a suitable buyer for your coins in future.
Buy gold bars in all weights: attractive premiums and easy to trade
Gold bars are available in a range of sizes from as small as 1 gram. Bars are especially attractive as they tend to have the lowest premiums when compared to gold coins. The larger the bar you choose, the lower the premium. This makes collecting gold bars a logical purchase for those looking to purchase gold in heavier weights. Depending on your chosen bar, it is likely to include a certificate stating the authenticity and details of your gold bar. A certificate is often issued by the producer as additional confirmation and is not a requirement when it comes to making a future sale. As long as your bar originates from an LBMA approved smelter, it can be traded effortlessly worldwide at any time.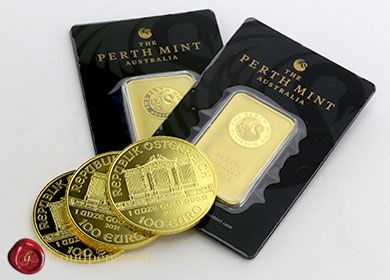 Buy gold coins: world-renowned and very flexible
The Canadian Maple Leaf, Australian Kangaroo and South African Krugerrand are just a few examples of well-known coins traded internationally on the physical gold market. Unlike gold bars, gold coins are generally only available in smaller weights. The most common weight is 1 Troy Ounce (31.1 grams) and for many people this is an ideal size for trading gold. One of the advantages is that this weight directly translates into current trading prices, therefore the value of your gold coin can be determined without the need for conversion. Of course, it is also possible to add smaller coins to your collection, such as those weighing 1/20 Oz, 1/10, Oz 1/4 Oz and 1/2 Troy Ounce. While gold coin premiums are known to be higher than those on gold bars due to higher production costs, popular investment coins such as the gold Maple Leaf are often not significantly more expensive than gold bars of the same weight. Finally, many coin series are minted in a limited edition. An example of this is the Lunar Series II or Lunar Series III coins issued by The Perth Mint in Australia. Because these coins appear every year with a unique design and as a limited mintage, they come with a higher premium. However, as these coins are also traded as collectibles, many buyers are counting on this to increase their value in future.
Conclusion: is it better to buy gold coins or gold bars?
An answer to this question ultimately depends on your personal preference. Also, there is also no need to choose when you can do both, as many gold buyers consider building a diverse portfolio that consists of both gold bars and gold coins. Ready to get started? Take a look at our product range and feel free to contact us for more information.
NB: This article is for informational purposes only. No rights can be derived from the content of this text. Content may be out of date and therefore incorrect. Always consult the correct authorities for current laws and regulations.