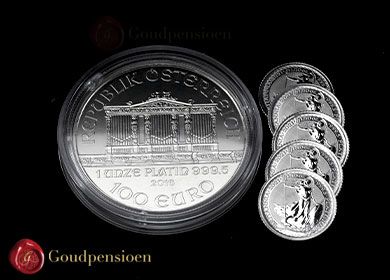 Why buy platinum?
Imagine possessing a material that's nearly thirty times as rare as gold. Platinum is one of the rarest materials in the world. This naturally white precious metal is, with the exception of palladium, the most durable and purest of all precious metals. Annually, only a few cubic meters of this material is mined. Buying platinum therefore means owning something much rarer than gold.

Platinum: valuable and exclusive!
Purchasing platinum is a simple and easy way of investing in an exclusive precious metal. This can be in the form of bars or platinum coins. Goudpensioen.nl trades in platinum with a purity of at least 99.5 percent, from LPPM accredited manufacturers. This means that platinum bars can be traded again on the worldwide market without further analysis. Platinum bars are taxed at 19 percent VAT. Troy ounce is the standard size for platinum. Even at such a modest weight, your platinum will already hold significant value!

Now is the time to buy!
Platinum is in low in price in these times of economic depression, making this the perfect time to invest. When the economy recovers, the demand for platinum will greatly outweigh the supply, making your platinum a valuable possession! Analysts expect platinum to offer better profit prospects than gold in the future. Platinum therefore not only offers short-term high profit possibilities, but is also a safe investment for the future.
The advantages of platinum investment
Platinum is a precious metal with special qualities. Demand for platinum from the industrial world has now even surpassed the demand for gold! Platinum is a highly sort after precious metal and a key material used in the medical, automotive, electronics and jewelry industries. The Chinese imports of platinum for the automotive industry increased in 2010 by a significant 24 percent! This huge demand for platinum in the coming years will only continue to rise while supply is minimal. Platinum is extremely rare and only mined in five countries worldwide. The extraction of this precious metal is a difficult and lengthy process: ten tons of ore supplies only one troy ounce (31.1 grams) of platinum!
Invest in platinum today!
Ready to take responsibility for your financial future into your own hands? Excited by the idea of owning an exclusive precious metal? The experts at Goudpensioen.nl are happy to inform you about purchasing platinum. Investing in platinum means having a truly unique precious metal in your possession!


NB: This article is for information purposes only. No rights can be derived from the content of this text. This information may be out of date and therefore incorrect. Always consult the appropriate authorities for current laws and regulations.