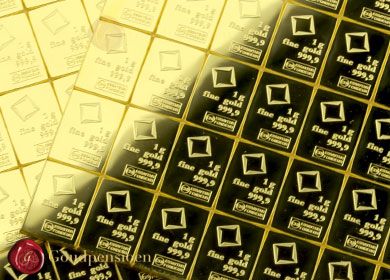 Buying gold offers security!
Do you want to take responsible protection of your assets? Buying gold means actually being able to hold your investment in your own hands. Many people find comfort in owning physical gold. After several dramas of falling bank, many people have already chosen to take control of their assets and no longer depend solely on a bank. The assets on your savings account no longer offers the same security as before – physical gold does!
Buying gold - a safe investment
Owning physical gold offers a safety net in these times of economic turbulence. Precious metals perform better during periods of financial crisis and currency devaluation. Bank crisis, government deficits and the accelerated depreciation of many currencies have had many negative effects on the stock market. No wonder that many investors have turned to a safer investment option in the form of precious metals. In these financially uncertain times physical gold offers you the assurance of real money in your hands. Shares are falling in value, money is losing its worth, but gold will always retain its universal value! It's easy to see why buying gold is a safe investment.
Buy gold – bars or coins?
Physical gold is available in the form of gold coins or gold bars. Gold coins are ideal for smaller investments, gold bars are a safe choice for the investment of larger amounts. Worldwide, the most common way of investing gold is in 1 troy ounce (31.103 grams) gold coins. Popular gold coins include the Canadian Maple Leaf, American Eagle and the Mexican Libertad. These coins are recognized worldwide and are easy to trade. When purchasing larger quantities of physical gold, gold bars are very suitable choice. Investment gold coins or gold bars are not subject to VAT.
Buying your gold
Gold is not an everyday purchase. For this reason Goudpensioen.nl is here to offer you expert advice about buying gold. We can provide safe protection of your assets perfectly tailored to your individual needs


NB: This article is for information purposes only. No rights can be derived from the content of this text. This information may be out of date and therefore incorrect. Always consult the appropriate authorities for current laws and regulations.