Bent u op zoek naar informatie over goud kopen bij banken, bijvoorbeeld goud kopen bij de ABN AMRO bank? In dit artikel leggen wij uit hoe dat vroeger ging en hoe dat nu geregeld is. Goud kopen bij de bank is dusdanig in populariteit afgenomen dat dit tegenwoordig vrijwel onmogelijk is. Toch is fysiek goud kopen nog steeds een mogelijkheid, want inmiddels hebben professionele goudhandelaren zoals Goudpensioen deze taken overgenomen.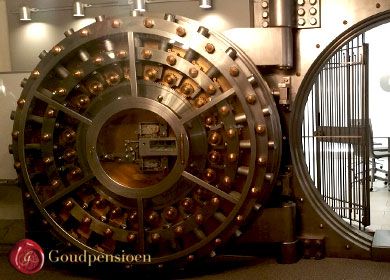 Goud kopen bij de bank
Vroeger toen men goudbaren wilde kopen, ging dat vanzelfsprekend en heel gemakkelijk bij de bank. Bijvoorbeeld ABN AMRO die tot recentelijk baargoud verkocht aan haar klanten. Door baren van puur goud aan te bieden, was het mogelijk voor de klant om een deel van zijn of haar vermogen te investeren in fysiek edelmetaal. Jaren geleden werd dit ook vaak gedaan, maar tegenwoordig zijn er ter wereld nog maar weinig banken over die hun goudbaren aan particuliere kopers uitleveren.
Kan men bij ABN AMRO goudbaren kopen?
Goudbaren kopen bij banken als de ABN AMRO is niet meer mogelijk. Banken richten zich tegenwoordig op andere, niet fysieke beleggingen. Hierdoor zijn bij veel banken de kluizen verdwenen en worden er steeds meer filialen gesloten. Kortom, bij banken is de fysieke uitlevering van goud niet meer mogelijk. Toch betekent dat niet dat goud kopen een ingewikkeld karwei hoeft te zijn, indien u van plan bent om goud te kopen dan zijn er andere, net zo veilige, opties.
Alternatieven voor goud kopen bij banken als de ABN AMRO
U wilt fysiek goud kopen. Dan bent u bij Goudpensioen aan het juiste adres. Al meer dan een decennium handelt ons bedrijf in beleggingskwaliteit edelmetaal die u snel, veilig en discreet online of in onze winkel kunt kopen. U koopt hier uitsluitend baren en munten van erkende smelters en munthuizen. Bovendien kunt u rekenen op 100% terugkoopgarantie tegen gunstige koersen. Ontdek alle mogelijkheden direct op onze website.